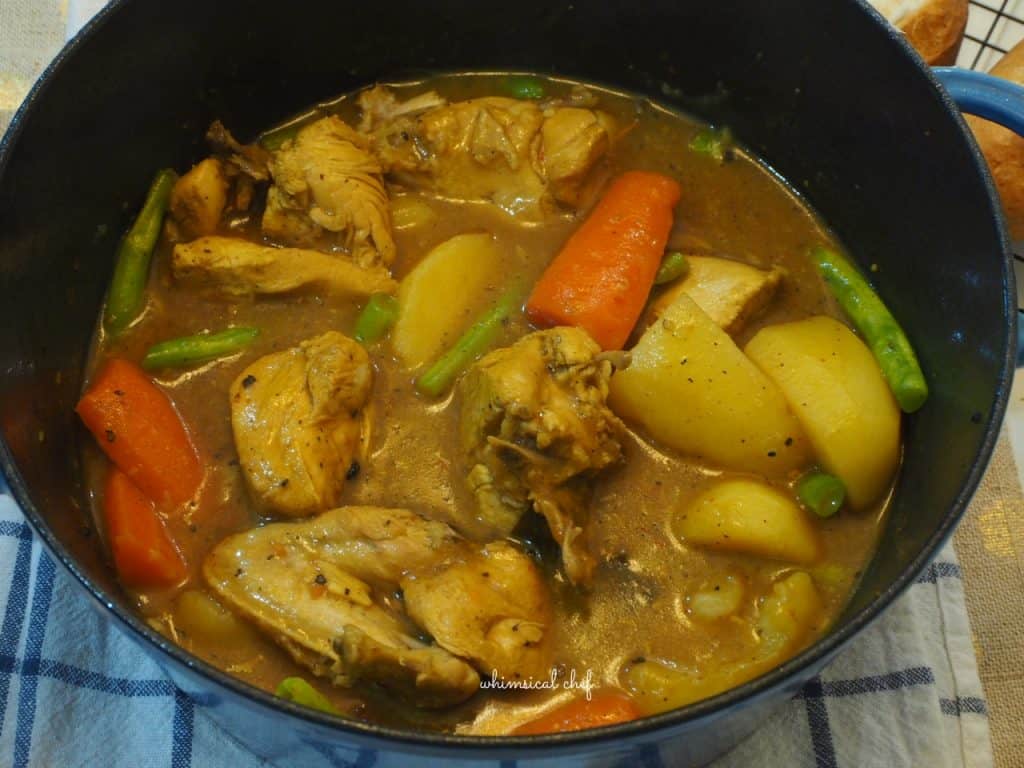 On days that I crave the comfort of Lankan flavours, but lack the energy to cook a full blown curry meal, this one pot chicken stew is the perfect solution! Served alongside crispy crusty baguette (or Lankan roast paan, if you are that lucky to get your hands on some!), and a knob of butter, this 'Sri Lankanized' stew is one of my favourite comfort food for rainy work nights.
INGREDIENTS:
Chicken
Potatoes
Carrots
Beans
Garlic and curry leaves
Turmeric, Salt, Black pepper
Mustard paste,Tomato puree and Worcestershire sauce
Butter and some oil
HOW TO:
1. Marinate the chicken with turmeric, mustard paste, salt, pepper and Worcestershire sauce. Set this aside to marinate till you prepare the rest of the ingredients.
TIP: I sometimes marinate the meat over the weekend and pop them in the freezer, and then place it in the fridge in the morning before I head to work. By the time I get back home for dinner, the meat is perfectly thawed. I then leave it out to come into room temperature till I prepare the rest of the ingredients.
2. Heat oil and a bit of butter to sautè sliced garlic and curry leaves. Adding butter adds flavour while the oil prevents the butter from burning. Adding curry leaves and turmeric to this stew gives it a unique Lankan flavour and aroma.
3. Once the garlic is translucent, add in the chicken and seal the sides till they are golden. Though my husband and I both prefer chicken breast over dark meat, I insist on using chicken with bones and dark meat, for this recipe because the bones add in so much flavour.
4. Peel the carrots and potatoes and cut them into large chunks to ensure they don't get over cooked and turn into mush. I like to cut my carrots in half and then slit them lengthwise, and cube the potatoes into quarters or disks for this recipe.
5. Once the chicken is seared on all sides, add in the peeled and cubed carrots and potatoes with a dollop of tomato puree. Adding a wee bit of tomato puree gives the stew a much needed tangy undertone, without clouding the stew with pieces of actual fresh tomato.
6. Add enough water to cover the meat and bring to a boil. Cover and cook till the meat is cooked through and potatoes are soft but not mushy.
7. Lastly, add in the beans and cook for a minute or so till the beans are tender, but still crunchy and color.
8. Finish off by mixing in a cornflour slurry to slightly thicken the stew and a final sprinkling of fresh black pepper.
9. Enjoy with some warm crusty bread and butter.
Do let me know if you give it a go and don't forget to follow my regular foodie adventures on instagram🙂