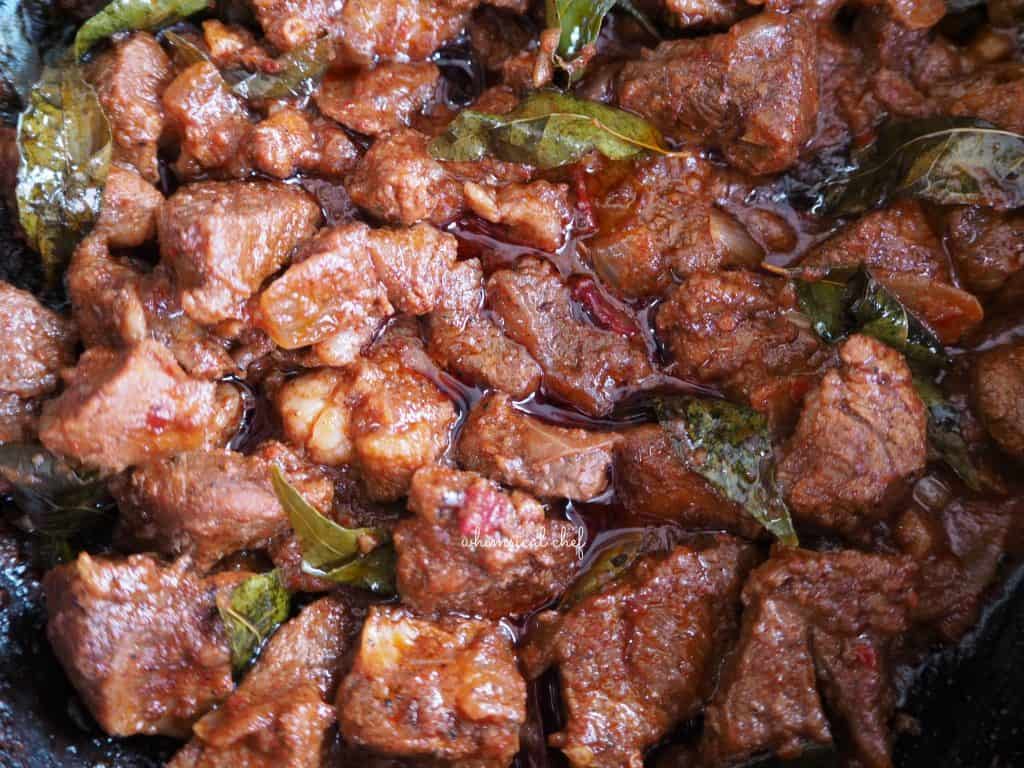 Heylo peeps, here I am after a super super super long hiatus with a lamb curry recipe that I really want to document!
I was never a big fan of lamb or mutton until a trip back home where my cousin whipped up an amazing mutton dish for me. I came back wanting to recreate that same dish for honey bunch and here we are now, experimenting with many many new lamb and mutton dishes. This experimental curry I whipped up just today turned out to be exceptionally delicious  that I just had to share it with you guys.
I love lamb over mutton because I find mutton to be more gamey and has strong smell and taste which I still can't quite appreciate, but feel free to replace this recipe with mutton or even pork.
As always, the quantities are a aga-rated and feel free to adjust according to your personal preference. 
INGREDIENTS:
300g Lamb, cut into small cubes
1 Medium onion, chopped
3 Garlic cloves, minced
Curry leaves, Pandan leaves
1 Tbsp raw rice
1 Tbsp shredded coconut
Chili powder, cinnamon stick, dried red chili, Chili flakes, Salt
1 tsp Mustard cream
1 Tbsp Vinegar
Tamarind
1 Tbsp thick coconut cream and some water
HOW TO:
Marinate the cubed lamb (you could use mutton/pork) with salt, chili flakes, mustard cream and a bit of vinegar
Dry roast a tablespoon of raw rice until golden and then add in a spoonful of shredded coconut and roast both until they are dark brown. Make sure you do this under a very low heat, else it'll burn and become bitter and that's not what we are after.
Grind this into a fine powder and add into the meat. TIP: This ground mixture adds an amazing flavor and a slight smokiness to meat curries and is a very common ingredient added into Sri Lankan meat dishes, specially pork. This also stores well in the fridge for about 2-3 weeks.
Dry roast a tablespoon or more of red chili powder until it becomes deep red. NOTE: Roast this under a very low flame as well and be warned you might get a coughing fit if you burn the chili by any chance. So, please do keep a close eye and keep mixing constantly.
Add the deep red chili into the meat as well and let everything marinate for about 30 mins at least. Keeping it overnight in the fridge would be even better!
Add a bit of oil into a clay pot and sauteè onions, garlic, cinnamon, dry chili, curry leaves and pandan till golden. Using a clay pot really makes a difference but a normal heavy bottomed pot would do just fine if you can't find a clay pot.
Add in the marinated meat and let it cook for about 10 mins under low/med heat.
Add in the tamarind with a bit of water (depends on how much gravy you want) and a tablespoon or so of thick coconut cream.
Let the lamb curry cook in a low flame until the oils oozes out and the meat becomes tender.
Lastly, I decided to add in a few extra curry leaves at the very end and this really elevated the dish to a whole new flavor profile! I am so going to try doing this for other curries too!
I am going to enjoy this with red rice, a breadfruit curry, gotukola salad and some papadam – this really is one of the best combinations you could ever have!
Do let me know if you give it a go and don't forget to follow my regular foodie adventures on instagram🙂
Ingredients: