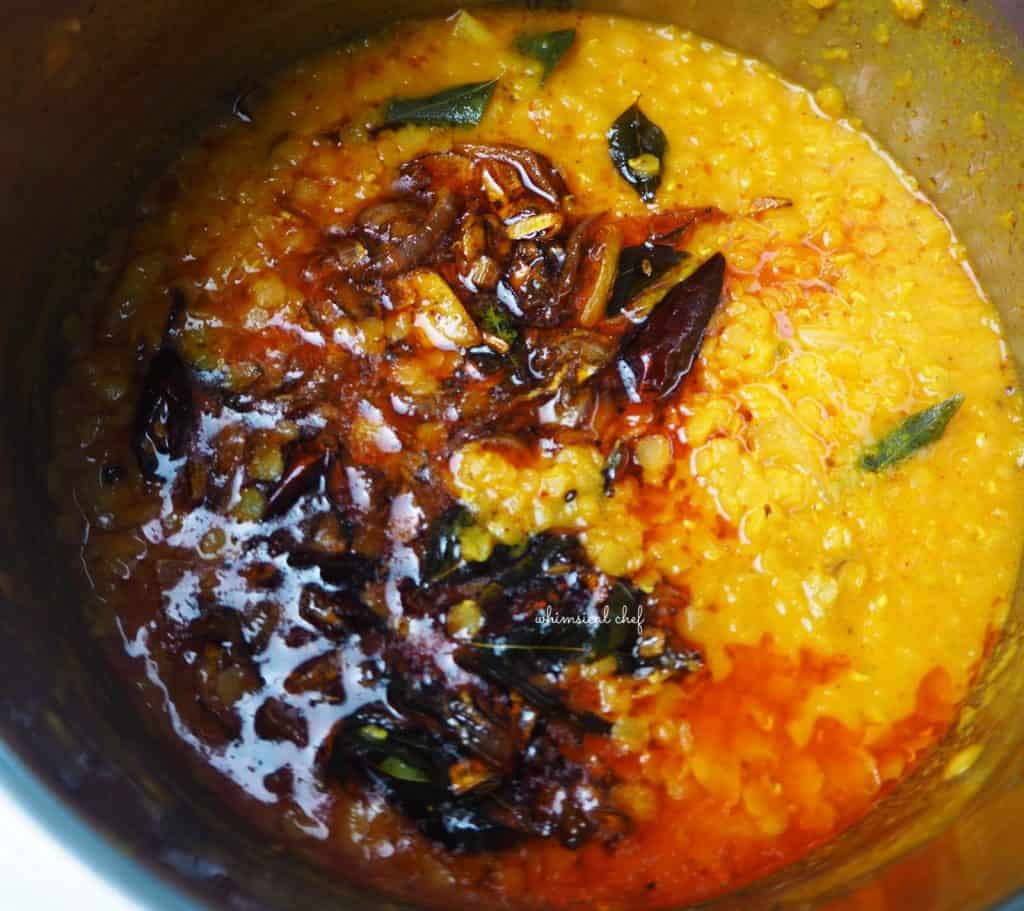 Parippu (Dahl) has to be Sri Lanka's most favorite / famous dish! Unsurprisingly, this beauty makes it to my breakfast-lunch-dinner plate at least once a week. I've actually heard of people who eats dahl every single day!!
It's such a versatile dish that goes amazingly well with all of Sri Lanka's staple carbs. i.e, Rice, Bread, Idiappa (String hoppers, they're called 'puttu mayam' in places like Singapore and Malaysia) and even Roti and Parata. Probably the only thing it doesn't complement is pasta! Pardon the weird image I just created in your head 😛
I have two parippu curry recipes up my sleeve that almost always comes out purr-fect! (Hope I didn't jinx myself now!). A thick, coconut milk rich curry that's brilliant with rice and a spicy red 'thin' version without milk for bread or parata. Both recipes call for the same ingredients, just that one with coconut cream and less chili powder and the latter with little or no coconut milk and plenty of chili powder.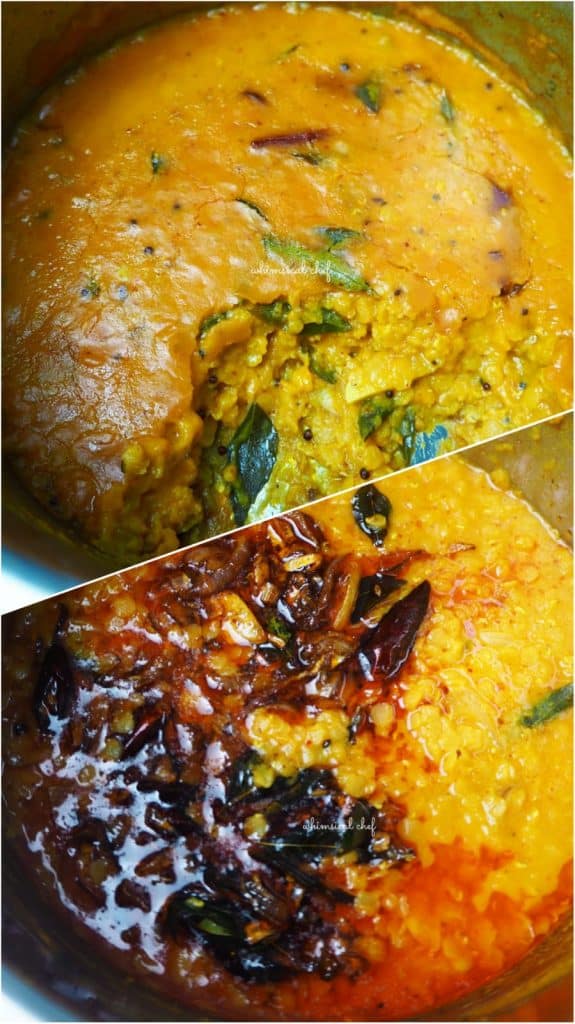 There's plenty of other variations out there too – like a drier version with shredded coconut and another without the tempering process, and some even with tomatoes. But these are the two that makes an appearance at our home.
The recipe inspiration comes from my lovely ammi (mom) and bubbly mom in law – pretty much a blend of two cultures 🙂
Cast of Characters:
Dahl – washed well
Onions – finely chopped
Few cloves of garlic – sliced
Plenty of curry leaves
Coconut cream (Optional)
Dried red chili – whole
Turmeric powder
Red chili powder – I highly recommend using Kashmiri red chili powder as it gives an amazing bright red hue to any curry!
Mustard seeds
Cumin seeds
Salt
Water & Oil
How to:
Combine the washed dahl and plenty of water (I roughly use about dahl to water ratio of 1:1.5) and season it with salt, turmeric powder, chili powder, a few sprigs of curry leaves, sliced garlic, 2 or 3 dried red chilies and a few pieces of chopped onions.
Let the mixture come to a boil and then cover and let the dahl cook completely.
If I am making the thick version of dahl, I usually add a bit more water and let the dahl cook until it's really well cooked and almost mush. For the spicier version without or less coconut milk, I let it cook till it still has a bite.
For the creamier version, add plenty of coconut milk and slow cook it until it's creamy and thick. You can omit it for the other version or add just a teeny bit.
Next comes the tempering process which makes the entire dahl smell, taste and look absolutely amazing!
In a separate frying pan, heat up some oil and add the sliced onions and garlic and fry until they are lightly golden. Next add in the mustard seeds and cumin seeds and let them pop. Next add in the curry leaves and one or two whole dried red chilies and let this all fry till the onions are nice and golden. This was the aroma (sans the cumin cos that was an addition by my MIL) which alerted my senses that my mom was making dahl at home.

Update:

Recently while making the tempering mix for my dahl curry, I absentmindedly added in some chili powder into the oil at the very end and loved the resulted red hue and flavor. Moving forward, this would be a staple to my dahl curry and I highly recommend it too!
Finally add in the cooked dahl into the tempered onions (be careful it will splatter as the dahl his the hot oil) or the other way around – the tempered mix into the dahl and mix well.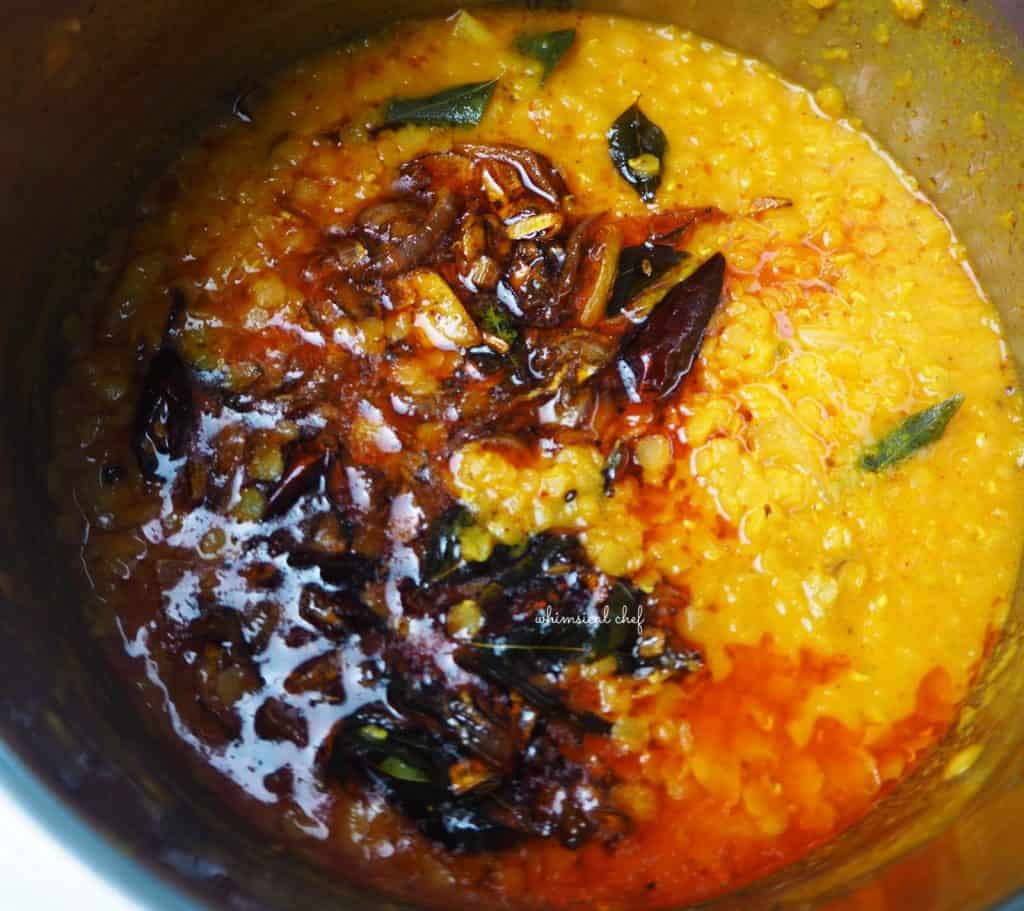 Sidekicks:
As mentioned, this could be enjoyed with almost anything – but here's some of m favorite pairings!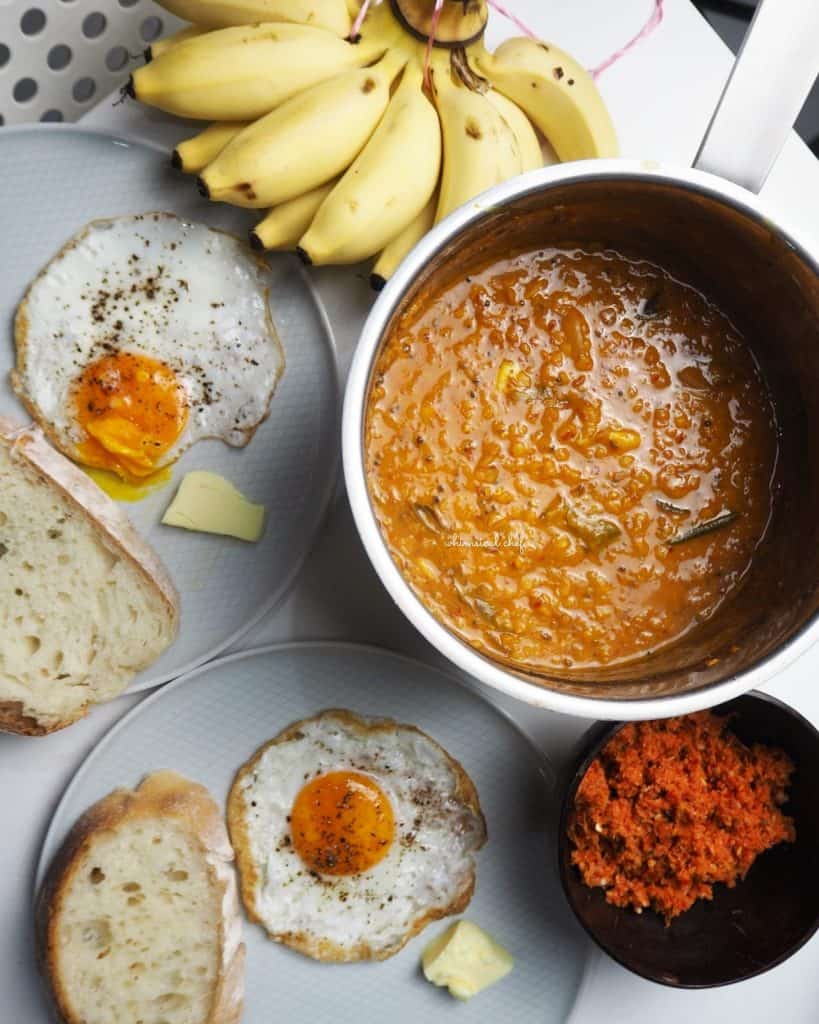 Feel free to browse my instagram account for more inspiration.
Notes:
You could always substitute coconut cream with fresh milk for a healthier version. My bestie Suj shared this tip with me 🙂
You can add in spinach into the dahl at the very end to make a lovely variation. It goes amazingly well with rice.