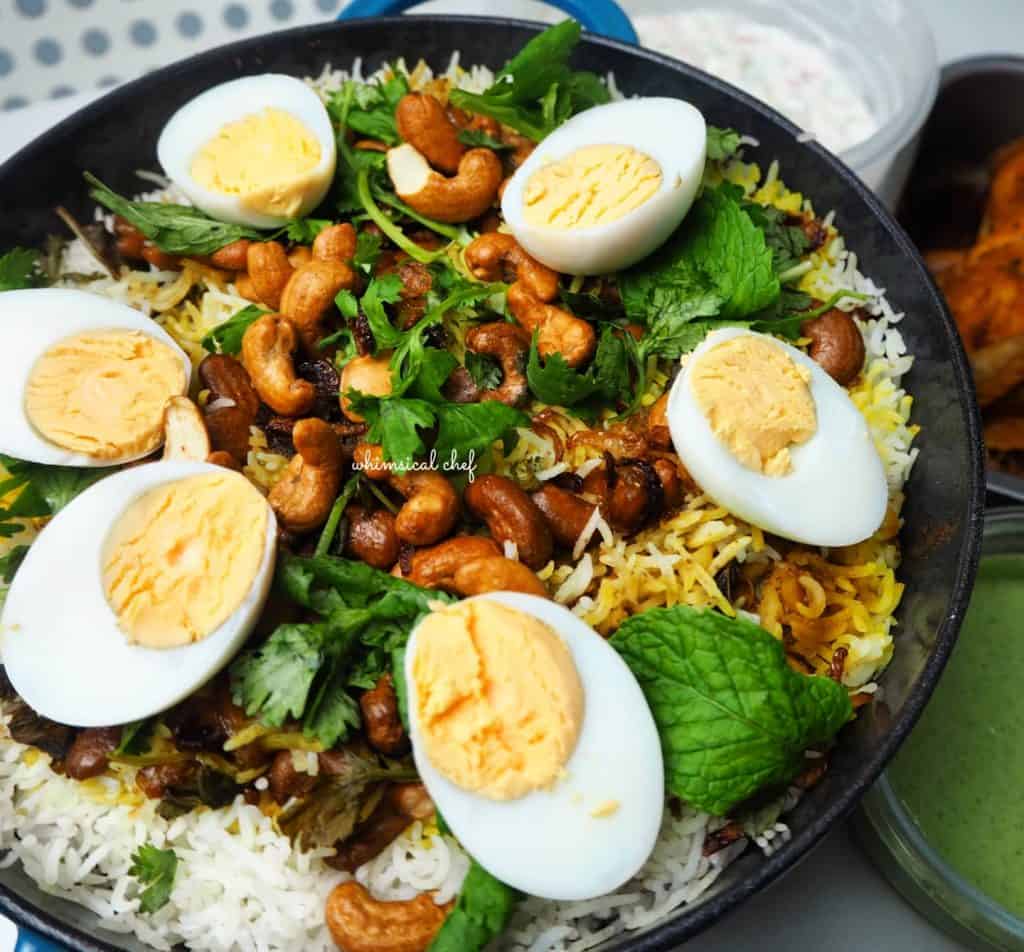 When you are married to a Sri Lankan Muslim, it becomes almost an expectation to nail a mean Biriyani dish. Biriyani, along with Watalappan and Samosas, is one of those things that are best made by the Muslim community and if I may say, goes synonymous with Muslims in Sri Lanka.
Ironically, or as fate would have it, my Catholic family used to celebrate every single Christmas with a mouth watering Biriyani sawaan from Majestic Hotel back in Colombo. Call me a sentimental fool, but that really was the best biriyani I have ever eaten in my life and I can almost – almost smell that aroma right now.
My very first experiment with Biriyani was during Eid 2012, in a tiny tiny hostel kitchen (which only had ONE tiny hotplate, a microwave and a water heater for over 150 residents!) and I served it to three Lankan Muslims and two Indians (All who falls to the Biriyani expert category) and none complained!
I am not sure about how authentic this is – specially with all the shortcuts I employed, but rest assured, it has never failed me (except this one time my friend and I accidentally left it in the flame for too long and it got roasted at the bottom! Oh well, you live and learn!).
So here's the list of ingredients and method.
Cast of Characters:
For the Rice:
 1 cup of Basmati rice (Even ponni or samba works just the same too)
 Ghee
 A pandan leaf
 A few pods of cardamom and cloves, turmeric powder and salt
 Water (1 cup)
For the Chicken:
Half a chicken (Though we do mostly eat breast meat alone, bones and all are essential for a Biriyani as that's where all the flavour builds up from)
Biriyani mix (Cheat alert! 😀 I use Shan or Archchi brand from Mustafa)
An onion and a tomato
Half a cup of yoghurt
Turmeric and Chilli powder and Salt
Ghee
Garnishing:
Fried onions
Roasted cashew nuts
Coriander leaves
Double cooked eggs
How To:
Add in turmeric powder, salt, cardamom, cloves and pandan leaves to well washed rice with half the usual amount of water (~ 1 cup) and let it cook in a rice cooker. Though traditionally chicken and rice are both cooked together, I have not yet attempted doing that as I am scared I might over/undercook the rice or the meat. So my method is to semi cook both and then let them cook together, ensuring both will cook evenly.
Next, make a marinade with yoghurt, biriyani mix, a bit of chilli powder, turmeric, salt, cloves and cardamom. Be a little bit mindful with the salt as some biriyani mixes are already salted.
Stir this well and into it add the chicken pieces and let it marinate – preferably overnight in the fridge (cover it with cling film so it won't dry out). But honestly, if leaving it overnight is not an option, just leave it for about half and hour and it will still be alright.
Next, heat up some ghee and add to it the onions and sauté. I am not a big fan of adding a lot of onions, but I have seen friends adding much more than this, it's totally a personal preference 🙂
Once the onions are translucent, add the chicken mix followed by the tomatoes, cover and cook for about 10 mins until the chicken is cooked halfway.
By now, the rice should be semi cooked as well.
I like to take half  a portion of rice out, add in half the chicken mix with all the juicy gravy, layer with the rest of the rice and finally top it with the chicken again before adding another half a cup of water and cover and continue to let it cook in the rice cooker until both the chicken and rice is cooked.
Alternatively, you could also layer everything into a baking dish, cover with tin foil and bake it in the oven at a low temperature for about 20 mins. I only tried this once because I am usually a bit lazy to be bothered with this extra step
Once everything is cooked through, stir and garnish with deep fried onions, roasted cashew nuts and coriander.
I like to serve this with my family favourite – twice cooked egg. Essentially a boiled egg which is peeled and then poked with a fork and sprinkled with salt and turmeric and then deep fried till crispy on the outside.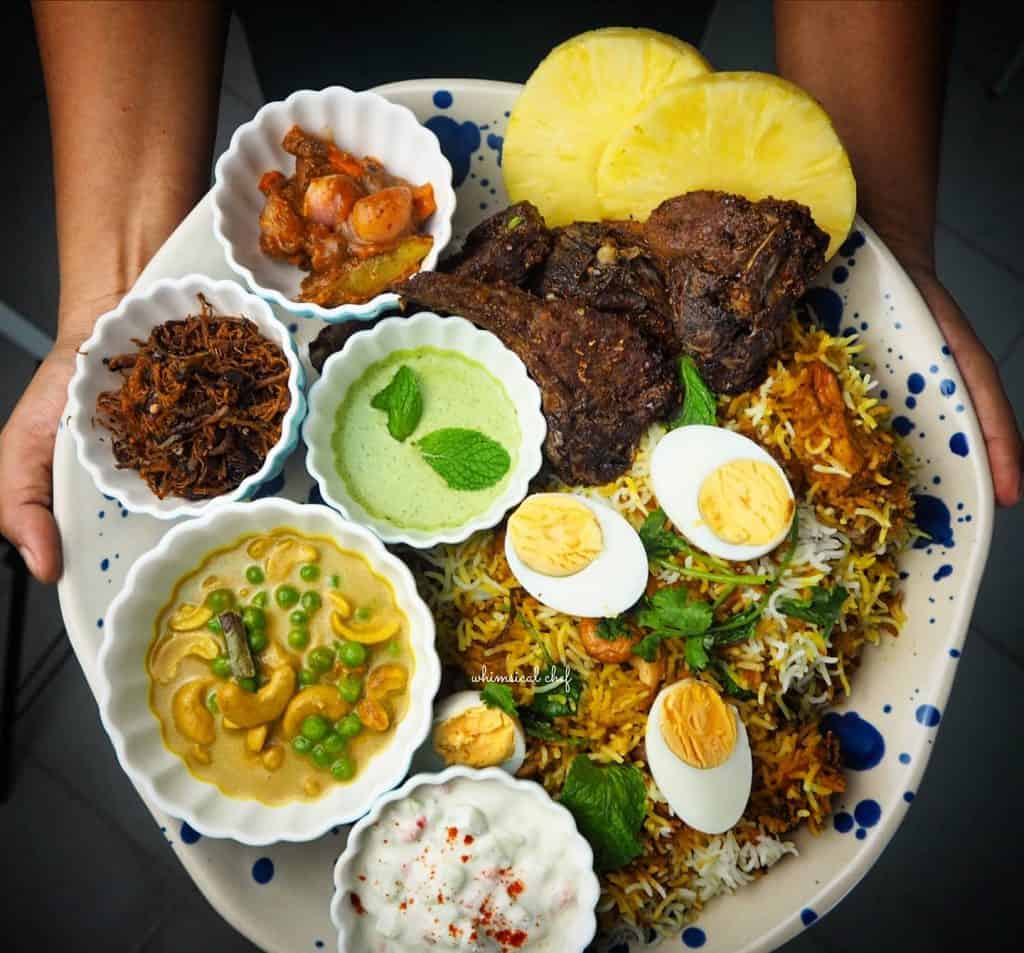 For the above platter, I paired the biriyani with some lamb chops, cashew curry, raita, mint sambol, malay pickle, badum, boiled eggs and a few slices of pineapple. You can also pair it with some lovely roast chicken.