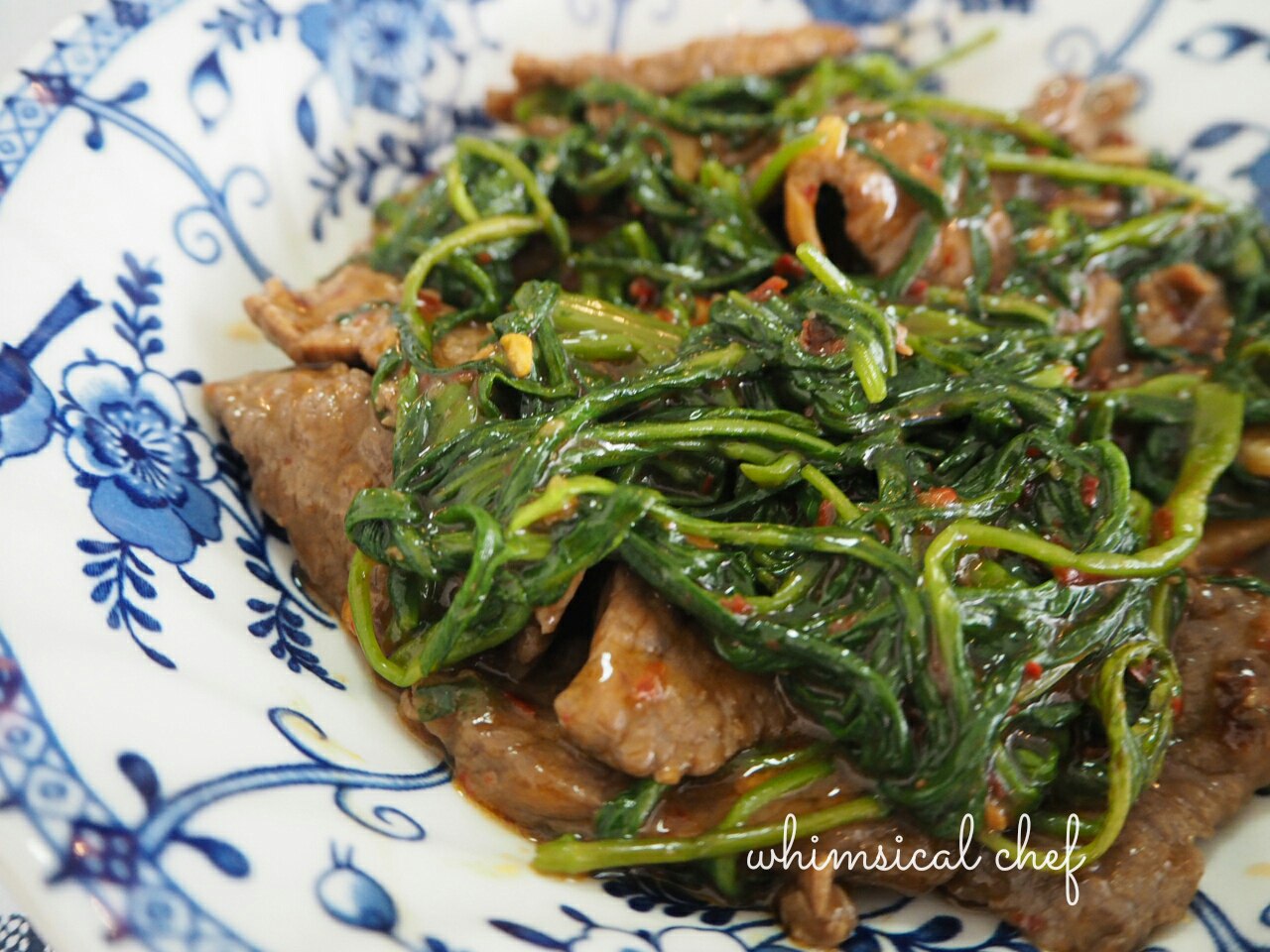 Chinese cuisine is a hot favourite across the world and Sri Lanka is no exception. There's a popular joke saying that Sri Lanka probably has more Chinese Restaurants than China itself – that is how much Sri Lankans love their Chinese food. After living in a country with a vast Chinese population, I have come to realise that Sri Lankan Chinese cuisine  is a league on its own – pretty far fetched from the authentic Chinese food found in the mainland or elsewhere in South East Asia. I guess the closest you can relate our version of Chinese food is to the food found in Schezuan region where the food is generally more spicier and pungent in flavour compared to its less oily, and less spicy counter parts found more commonly in Singapore and elsewhere. (My dear Chinese friends, please do correct me if I am wrong!).
This Kangkung Beef dish I am sharing today however is something that is very commonly found not only in Sri Lanka, but also in many Malay and Chinese stalls in Singapore. Malay's make a spicier version with a sambal balachan and the Chinese with a milder oyster sauce base and is a sure-order dish whenever we dine out.
Served with a bowl of white jasmine rice, it is a meal on its own!
Cast of Characters:
One bunch of Kangkung
Thinly sliced beef
3 cloves of Sliced garlic
Oyster sauce and Light Soya sauce
Chilli paste
Dried chilli flakes
1 tsp of cornflour diluted in2 tbsp of water
Oil
Method:
Wash the kangkung well and remove the stems. I prefer using only the leafy part for this dish but you could always use the stems also. Set this aside so that the water can drain off.
Marinate the beef with the dried chilli flakes, oyster and light soya sauce and set it aside for 5-10 mins. You could always use prawns or completely omit the meat if you like it to be a vegetarian friendly dish.
Heat a large pan (preferably a wok) to medium heat, and a bit of olive oil. Before the oil gets too hot, add in the sliced garlic and let it come to a sizzle. I like to use sliced garlic for this dish as opposed to using minced or chopped garlic but that is a personal preference. Also, I like to add the sliced garlic before the oil gets too hot as it helps to infuse the oil with the fragrance of the garlic without becoming too brown or burning.
After about 1-2 mins, when the garlic has softened a  bit, add in the marinated beef and increase the heat and let the beef cook. It is important to slice the beef really thinly so it cooks fast before the garlic has a chance to burn.
Once the beef has cooked, add in the chilli paste, followed by the kangkung.
Once the kangkung has wilted slightly, add in the diluted cornflour and stir well. Make sure you remove from heat and transfer it to a serving dish immediately to prevent the leaves from wilting too much.
This is my take on this very popular dish. Don't forget to tag #whimsicalchef if you give this recipe a go!
P.S We are now on instagram, facebook and on pinterest! Feel free to follow us there to get updates on our daily food adventures!